The MC3 CPU board carries 32kB RAM which is actually quite a lot for this kind of computer but more memory is always nice. This memory expansion will increase the available RAM to a whooping 64kB by placing two 16kB pages in the I/O area at $8000-BFFF. This means the we will cover the 128bytes area at $A000 used by MIKBUG. Several applications requires the existence of this memory area to run. A single 32kB 62256 RAM is used in the design and is divided between two I/O pages, page 6 and 7 (select signals S6 and S7).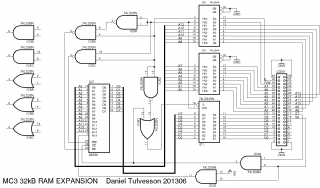 Schematic is seen above. Again no power supply rails are drawn nor are any 100nF capacitors that should be placed over the supply on every chip. All gates are HCT versions despite what the symbol says. Ground the inputs of the unused gates on the left.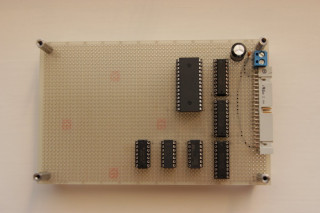 Top of the board. Some room to spare. Perhaps I may squeeze something else in here too. A Compact Flash interface perhaps?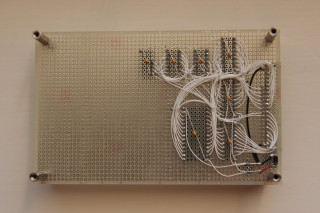 Bottom of the board. Again a soldered board. I found this technique to be quite effective actually. After some practice it is about as fast as good old wire-wrapping. It may be difficult to solder three or more wires on the same point but it can be handled. One thing that is actually better with soldering than wire-wrapping is that you can move a wire from one point to another if you make a mistake. With wire-wrapping you have to scrap the whole wire and do both ends again.
Update 2014-07-30 - Even more RAM!
The urge to make things bigger and better got to me and I added another RAM chip to the current board. There were unused gates on the old board that was sufficient to create the needed address decoding. The only chip that I had to add was the second 62256 chip.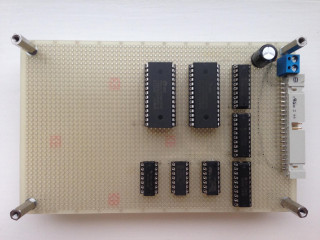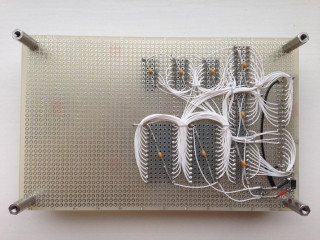 Now the MC3 has a whooping total of
96KB
of RAM!