In my first 6303 based computer I used floppies for secondary storage. Even though it worked very well floppies are relatively small, fragile, slow and, above all, they are outdated. Today there are easier and more convenient ways of storing large amounts of data. Even for a small 8-bit system. A while back I investigated the possibility to use IDE/ATA hard drives. Commonly available IDE drives are cheap and easy to obtain but they have 16-bit interfaces and needs some clever latching to make use of all 16 bits in an 8-bit system. Not really a big issue once you have your hardware done and driver written but it slows down disk access considerably (usually around a factor of two unless you do some kind of DMA). Older IDE drives for IBM-XT had an 8-bit mode that would effectively disable the upper 8-bits of the interface and pass all data through the lower 8-bits meaning they could be directly attached to an 8-bit system. Problem is that those drives are hard to find, small and old. Not a good solution for a new design. Today compact flash cards ("CF-cards") are commonly used in digital cameras and media players etc. They are in many situations replaced by the cheaper secure digital cards ("SD-cards") but CF-cards are still widely available and in use. Especially in systems needing high performance storage such as professional cameras, measure instruments and such. The interesting thing about CF-cards is that they can be configured for an IDE/ATA mode meaning that they would work just like an IDE hard drive. But one thing is particularly interesting.
The old 8-bit mode from the XT-days is back!
This makes the hardware interface ridiculously simple as the card acts just as a regular Intel-bus peripheral device.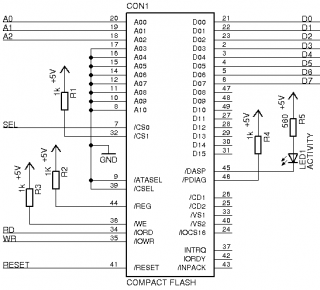 Above is my 8-bit interface for IDE/ATA mode. It is based on a design i found in an old SanDisk white-paper and connects directly to my MC3 I/O bus. The CF-card maps into the address space using three address lines for a total of eight registers. When using the card in LBA mode the register map looks like this (table taken from Motorola assembly code).
CFREG0 EQU CFBASE+0 DATA PORT CFREG1 EQU CFBASE+1 READ: ERROR CODE, WRITE: FEATURE CFREG2 EQU CFBASE+2 NUMBER OF SECTORS TO TRANSFER CFREG3 EQU CFBASE+3 SECTOR ADDRESS LBA 0 [0:7] CFREG4 EQU CFBASE+4 SECTOR ADDRESS LBA 1 [8:15] CFREG5 EQU CFBASE+5 SECTOR ADDRESS LBA 2 [16:23] CFREG6 EQU CFBASE+6 SECTOR ADDRESS LBA 3 [24:27 (LSB)] CFREG7 EQU CFBASE+7 READ: STATUS, WRITE: COMMAND
Just like a usual IDE hard drive. The 8-bit mode is activated by writing $01 to the FEATURE register (CFREG1) and then issuing the SET FEATURE command by writing $FE to the COMMAND register (CFREG7). The trickiest part of a CF interface may be to solder the CF socket. All sockets that I know are made for surface mounting and the pins are packed together really tight. I soldered thin wire-wrap wires to the pins to make my adapter.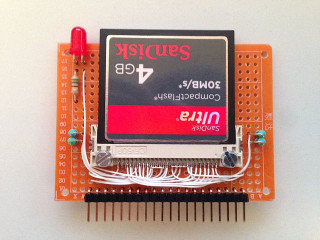 Picture of the finished CF interface for the MC3 bus. I wrote a quick test program for verifying the interface that reads card information and sector of choice.
Serial: DDZ010811032342 Firmware: HDX 6.03 Model: SanDisk SDCFH-004G LBA size: 00 77 38 00
Source code
I'm working on a very simple file system for use with the CF-card but that will be presented in a separate article.