I have always been fascinated by early microcomputers. Ever since I painfully wrote my first machine code program on the 6502 based
KIM-1
I have been hooked by these simple and lucid computers. I have constructed various designs in the past and this article is about my latest computer. The first one with some form of name actually. I call it the
MC3
since it is a
M
icro
C
omputer based on the HD630
3
microprocessor :) The HD6303 is a variant of the Motorola MC6803 and is produced by Hitachi. The 6803/6303 is software compatible with the 6800 but contain on-board RAM, timer, serial interface, clock circuit and an improved instruction set. It's a lot of old fashion micro computing on a single chip and the HD6303 is still widely available on eBay to this date.
Edit: Another good source for 65xx/68xx might be www.unicornelectronics.com
The reason for basing my design on the 6800 family rather than the more community friendly 6502 family is that I already have enough 6502 computers and I really like the structure of the 6800. Having a 16-bit stack pointer and index register is actually great. The 6801 improved the instruction set of the 6800 quite a bit and the 6303 improves it even further with functions such as the XGDX (exchange D and X registers). The MC3 is a small microcomputer that fits on a single 100x160mm board. It is my own design and the intention is that it should be able to run programs (with some modifications) made for the SWTPC6800, EXORciser or other similar computers. It should also be easy to interface to a modern PC for cross-development.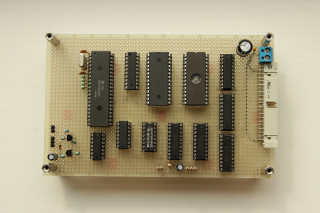 This is an image of the CPU board also containing RAM, ROM, address decoding, serial console interface and bus drivers. It's a complete computer! As you see there is not that many components needed for a fully functioning system. For the bus connection I used a standard 40-pin flat-cable connector. The same connector used for IDE hard drives. It is simple, cheap, widely available and has enough pins for my bus.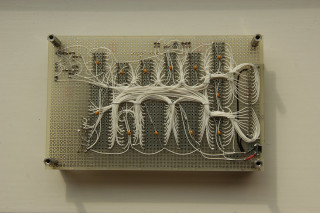 The back side view of the CPU board. I did not use wire-wrap this time as I did with my earlier designs. This board has been soldered. The main reason is that it is getting harder and harder to obtain wire-wrap supplies these days. I was also quite certain that I would not have to make many changes to the design. Soldering this way also makes the board much lighter and thinner than if it was wire-wrapped.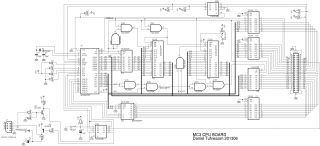 This is the final schematic of the MC3 CPU board. Power supply is not included in the schematic. 100nF decoupling capacitors over every chips power supply are also present but not drawn (don't forget these!). Also all logic chips are HCT variants regarding of what the schematic says. I just did not have the correct symbols. All external connections are buffered. These CPU's are not manufactured anymore. Better be careful.
Specifications
- HD63A03RP CPU @ 1.2288MHz (4.9152MHz external crystal divided by four) - 32 kB RAM - 16 kB ROM - 128 kB addressable I/O space divided into eight 16 kB banks - 16-bit timer - RS232 console interface, 9600bps 8N1
Memory map
$0000-$001F --- 6303 internal registers (timer, serial interface etc) $0020-$7FFF --- RAM $8000-$BFFF --- 16k*8 decoded external I/O $C000-$FFFF --- ROM There is also the 6303 built-in RAM placed at $0080-$00FF shadowing the external RAM and can be enabled/disabled when needed using the 6803 RAM control register at $0014.
Selecting I/O bank
Which one of the eight I/O banks that should show up at $8000-$BFFF is selected by writing to the bank select register at $0002. This is the built in 8-bit port (pins P10-P17) of the 6303 which I use for this purpose. - Bit 0-2 selects bank 0-7. These three pins are directly connected to IC8. - Bit 3-6 are not used - Bit 7 enables/disables interrupts from the bus. "0" enables bus interrupts and "1" masks bus interrupts. This is realized using IC6B.
Bus interface
All lines are buffered on the CPU board through '245 and '244 buffers. It makes it a little more complex and takes more chips but it's a good protection. D0-D7 --- Data bus. A0-A13 --- Address bus. S0-S7 --- I/O select pins. Active low. One for each page. R/W --- Read/Write signal. Motorola standard. High equals read and low equals write. E --- System clock. Motorola standard. Address and data lines are valid when E is high. IRQ --- Active low with pull-up. NMI --- Active low with pull-up. RES --- Active low reset signal.
ROM and monitor program
The 16 kB ROM area is actually a 27256 32 kB ROM that is divided in two. A14 is hardwired and divides the ROM in two halves. The high part and the low part. Which makes it possible to have two different monitor programs in ROM and selectable by pulling A14 high or low. I have written a monitor program that has the most basic functionality such as examining and changing memory byte by byte, dumping memory to console page by page, alter the stack contents and uploading S19 data over the console.
> h MC3 monitor 1.1 Daniel Tufvesson 2013 G Go (RTI) J Jump to address L Load S19 from console MC Memory change MD Memory dump RR Print contents of stack RS Reset stack pointer RC Change stack CC RA Change stack A RB Change stack B RX Change stack X RP Change stack PC P Select I/O page > md 0000 ADDR 0 1 2 3 4 5 6 7 8 9 A B C D E F 0000 FF FF 87 4A 51 49 54 B2 60 86 9D FF FF 00 00 CA ...JQIT.`....... 0010 FF 0A 30 FF 3F FF FF FF FF FF FF FF FF FF FF FF ..0.?........... 0020 80 00 BF FF FF 55 BF FF 9F FE 95 2C 05 54 05 4C .....U.....,.T.L 0030 9A 65 50 CA 8A 20 25 E0 8E C5 82 23 A8 80 55 43 .eP.. %....#..UC 0040 04 4E A4 FB 25 50 6B E8 B6 CC 60 48 4C CB 57 58 .N..%Pk...`HL.WX 0050 80 AB 62 9E 4A F3 14 90 64 64 53 D9 EA 04 04 23 ..b.J...ddS....# 0060 5B 0A 61 92 9A 26 CD 45 54 08 12 18 48 29 97 94 [.a..&.ET...H).. 0070 50 42 23 00 98 02 0A 65 61 80 C6 0C C6 16 00 D3 PB#....ea....... 0080 7E 00 87 C7 60 81 F1 8E 00 7F CE 80 00 00 2A A7 ~...`.........*. 0090 00 08 8C BF FF 26 F6 CE 80 00 8D 1D A8 00 26 22 .....&........&" 00A0 08 8C BF FF 20 07 0D 0A 2A 20 04 00 87 00 EB 86 .... ...* ...... 00B0 2B BD C0 03 7C 00 83 20 CE DF 85 00 85 00 86 9B +...|.. ........ 00C0 83 39 97 84 CE 00 A6 BD C0 00 CE 00 83 BD C0 12 .9.............. 00D0 BD C0 12 BD C0 15 DE 85 20 C6 60 16 EC AB AA C0 ........ .`..... 00E0 28 AD A8 46 17 A8 01 15 60 0C 11 00 1A 04 AA 01 (..F....`....... 00F0 FF C2 54 8F 81 6C 15 0A 47 D9 A5 C0 47 50 80 FF ..T..l..G...GP.. >
Printout of the help command and a dump of the zero-page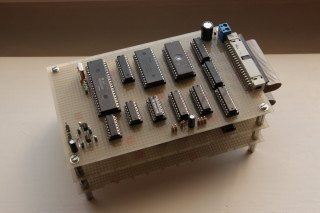 View of the MC3 system with CPU board on top and two expansion boards underneath.